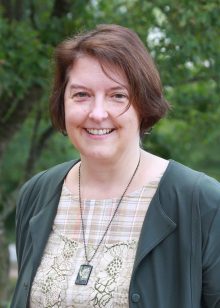 Cynthia Gibas, Ph.D.
Professor
Research Areas: Bacterial genetics and genomics, metagenomics, microbiology of human-built urban environments
Research Description:
Dr. Gibas is the founder of the North Carolina Urban Microbiome Project. With researchers in the Departments of Biology, Geography and Earth Science, and Civil and Environmental Engineering, we are studying the impact of treated wastewater release on urban streams in the Charlotte area. While water treatment in Charlotte is generally safe and effective, release of treated water contributes to elevated ambient levels of antibiotics downstream of the release point, as well as changes in the microbial community of the streams. We have assays for antibiotic resistant microbes, impacts of land applications of biosolids to crop land, and other related studies in the works. The long term goal of the collaboration is to develop models of environmental systems that will identify sources of ecosystem resilience, help us use land and water adjacent to cities safely, and perhaps eventually, to engineer the ecosystem to continue to support human communities in a changing climate.
Dr. Cynthia Gibas received the Ph.D. in Biophysics and Computational Biology from University of Illinois at Urbana-Champaign in 1996. She subsequently worked as a bioinformatics analyst and programmer at the National Center for Supercomputing Applications. In 1999, she took a faculty position at Virginia Tech and was involved in the development of their Bioinformatics graduate programs and the initial formation of the Virginia Bioinformatics Institute. In 2005, she moved to UNC Charlotte. Her expertise is in genomic data analysis, visualization and integration, with experience in analysis of next-gen sequencing data, genome assembly, comparative genomics, transcriptomics, molecular biophysics, and molecular modeling.